Book Launch: A Touch of Genius – A celebration of Evans-Pritchard
21st April 2023, 2:00 pm - 4:00 pm
This is an in person event taking place at:

Fitzhugh Auditorium of Exeter College Oxford's Cohen Quad, Walton Street, Oxford OX1 2HG (Map)
→ To join us please reserve your spot here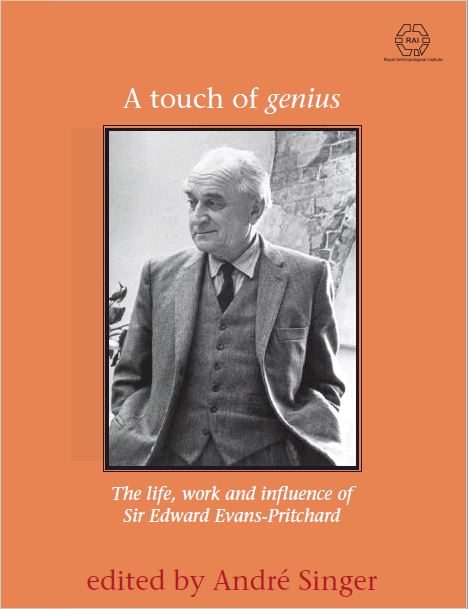 A Touch of Genius
The Life, Work and Influence of Sir Edward Evans-Pritchard

Edited by André Singer
(RAI Book Series Volume 4, Sean Kingston Books)
 
Evans-Pritchard was one of the most influential anthropologists of his, or any other time. Indeed, as time goes by, his importance becomes ever more evident. In A Touch of Genius, a distinguished group of contributors consisting of E-P's colleagues, family and those who have used his writings reflect upon his life, work and influence. This launch event will provide an opportunity to discuss the book, to learn from the contributors, and to reconsider E-Ps life and legacy.
Andre Singer, the editor of the volume, was E-P's research assistant, and is a leading documentary film maker and author. A former President of the Royal Anthropological Institute, he is currently CEO of Spring Films.

Contributors:
Grace Akello, Tim Allen, Ahmed Al-Shahi, Raymond Apthorpe, Bruno Braak and John Justin Kenyi, Douglas Davies, Francis Mading Deng, Susan Drucker-Brown, Deirdre Evans-Pritchard, John Evans-Pritchard, David Hicks, Wendy James, Timothy Jenkins, Douglas H. Johnson, David B. Kronenfeld, Eisei Kurimoto, Pierre Lee, Harriet D. Lyons and Andrew P. Lyons, Piero Matthey, Leben Nelson Moro, Christopher Morton, Elizabeth Ngutuku and Auma Okwany, Juan Ossio, Bruce Ross-Smith, Gary Seaman, David Shankland, André Singer, Richard Werbner, Roy Willis, John Gai Yoh, Melha Ruot Biel, Kim Jal Lieh and Naomi Pendle
The event is kindly supported by Exeter and All Souls Colleges, Oxford, and by the Royal Anthropological Institute. 
----------------------------------------------------------------------