Climate Protection, Energy Security, Geopolitics: Squaring the Circle
All Souls College
From 7–8th December 2022, All Souls College held a public symposium on climate protection, energy security, and geopolitics. This followed a proposal in 2019 to increase academic activity around climate change from its Climate Working Group. In the last few years, it has become apparent that the transition away from a fossil fuel-based economy poses deep challenges for individuals, companies, and countries. The aim of the symposium was to leverage the College's strengths to bring together diverse perspectives from public life and a variety of academic fields: climate science, economics, law, politics, social science.
We discussed how climate change and violent conflict have been related in the past with implications for the future, and how the new UK Office for Environmental Protection holds Government to account for its climate goals. We also saw the scale of military emissions, hearing how climate change might be classified as a national security issue, and we heard how the economic and political history of China shapes its decision making on climate and geopolitics today.
We further heard about environmental justice from the perspective of the global south and how diplomacy plays a vital role in the transition to "Net Zero". We also heard contrasting views on the role climate litigation plays in holding governments, countries, and individuals to account for their present and historic emissions.
Looking at long versus short-term thinking, we heard about the history and future of climate litigation and the challenges of communicating and achieving "Net Zero". We also learned about the economics of climate change mitigations in the short and long term and the emphasis we should place on the needs of future generations.
We hope the meeting provided a platform for future discussions and collaborations among speakers and delegates. We thank the speakers and chairs, as well as our colleagues at Oxford Net Zero for their help in organising this event.
 Organisers
Ross Anderson, Wolfgang Ernst, Miriam Meyerhoff, Srikanth Toppaladoddi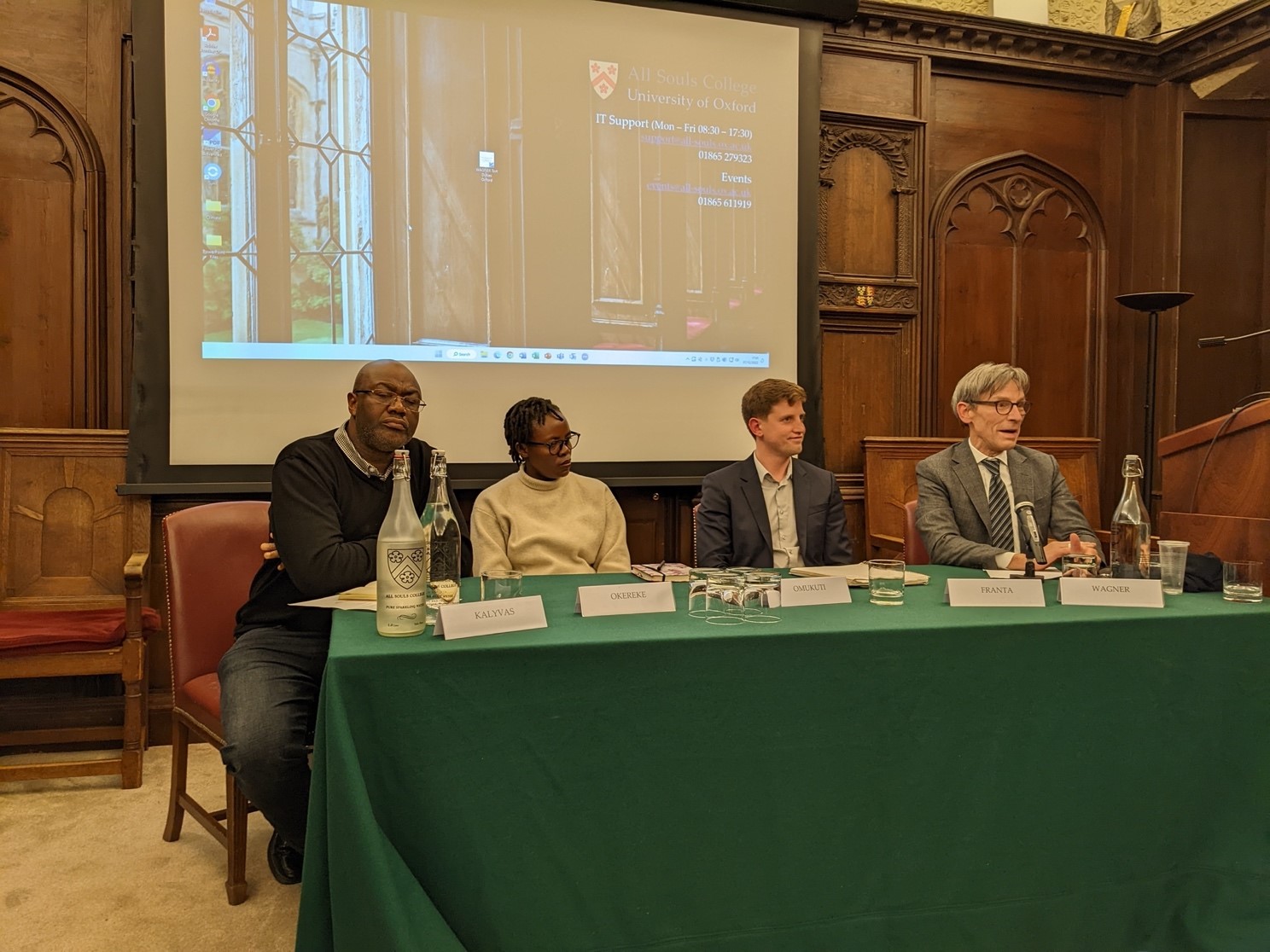 Speakers in the session on equity and justice. Left to right: Chuks Okereke (Alex-Ekwueme Federal University Nigeria), Jessica Omukuti (Oxford Net Zero), Benjamin Franta (Smith School of Enterprise and the Environment), Gerhard Wagner (Humboldt-University Berlin).