Dr Fiona Burnell
BSc, PhD
Quondam Fellow since 2013
Fiona Burnell has continued her research in theoretical condensed matter physics, and has co-authored three published articles and three articles submitted for publication. She has also given seminars at Cambridge and Birmingham universities, and presented an invited talk at one conference. She runs a weekly Condensed Matter Theory seminar series, organised a two-day workshop on Topological Quantum Information in September 2012, and served on the scientific committee for a follow-up workshop in February 2013.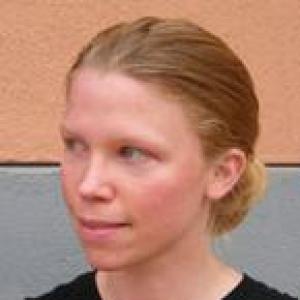 Quondam Fellow, All Souls College (from 2013)
Post Doctoral Research Fellow, All Souls College (from 2009 to 2013)
Postgraduate, Princeton University (from 2003 to 2009)
Undergraduate, University of British Columbia, Canada (from 1997 to 2002)
The physics of strongly correlated many-body systems, in particular topological phases of matter and frustrated magnetism and quantum magnets
(with M. M. Parrish, N. R. Cooper, and S. L. Sondhi), 'Devil's staircase and supersolids in a one-dimensional dipolar Bose gas', (accepted to Phys. Rev. B)
(with B. A. Bernevig and D. P. Arovas), 'Scenario for fractional quantum Hall effect in bulk isotropic materials', Phys. Rev. B 79, 155310 (2009)
(with Shoibal Chakravarty and S. L. Sondhi), 'Monopole flux state on the pyrochlore lattice', Phys. Rev. B 79, 144432 (2009)
(with R. Shankar and S.L. Sondhi), 'Flux Hamiltonians, Lie Algebras and Root Lattices with Minuscule Representations', Ann. Phys., vol. 324, Issue 2 (2009), 267–95 [doi:10.1016/j.aop.2008.06.005]
(with S.L. Sondhi), 'Classified Antiferromagnetism on Torquato-Stillinger Packings', Phys. Rev. B., 78, 024407 (2008)
(with G. Kribs), 'The Abundance of Kaluza-Klein Dark Matter with Co-Annhiltion', Phys. Rev. D., 73, 015001 (2006)
NSERC Postgraduate Scholarship (from 2005 to 2007).
NSERC Julie Payette Postgraduate Scholarship (from 2003 to 2005).
Joseph Henry Prize in Physics (from 2003 to 2004).