Professor Peter Pulzer
BSc, MA, PhD, FRHistS
Emeritus Fellow since 1996
Peter Pulzer contributed to a symposium on Architecture and Inwardness in Vienna, conducted by Professor Joseph Koerner at Clare Hall, Cambridge. He lectured in Oxford and at the University of Sussex on the eightieth anniversary of the appointment of Hitler as German Chancellor. In December 2012 he was awarded the degree of Doctor of Philosophy honoris causa by the University of Vienna. His contribution to German Jewry Between Hope and Despair was published in the spring of 2013. He is continuing to work on his monograph State, Society and Parties in Germany.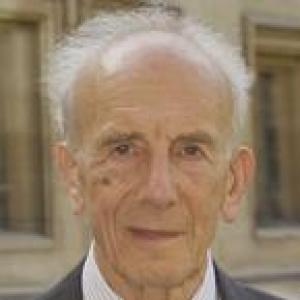 Emeritus Fellow, All Souls College (from 1996)
Professorial Fellow, Institute for German Studies, University of Birmingham (from 1996 to 1999)
Gladstone Professor of Government and Public Administration and Fellow, All Souls College (from 1985 to 1996)
Lecturer in Politics, University of Oxford and Official Student and Tutor in Politics, Christ Church, Oxford (from 1962 to 1984)
Lecturer in Politics, Magdalen College and Christ Church (from 1957 to 1962)
Postgraduate, King's College, Cambridge (from 1954 to 1957)
External Student, University of London (from 1951 to 1954)
Undergraduate, King's College, Cambridge (from 1947 to 1950)
Politics
Modern European history
(co-editor with K. R. Luther) Austria 1945–1995: Fifty Years of the Second Republic (Aldershot: Ashgate, 1998).
German Politics, 1945–1995 (Oxford: Oxford University Press, 1995).
Germany 1870–1945: Politics, State Formation, and War (Oxford: Oxford University Press, 1997).
Jews and the German State: The Political History of a Minority, 1848-1933 (Oxford: Blackwell Publishers, 1992).
Political Representation and Elections in Britain (London: Allen & Unwin, 1967).
The Rise of Political Anti-Semitism in Germany and Austria (London: Wiley, 1964; revised edn., London: Halban, 1988).
Hon. Dr rer. soc. oec. (University of Innsbruck, 2007)
Chairman, Academic Advisory Committee, Centre for German-Jewish Studies, University of Sussex (from 1997 to 2009)
Chairman, Leo Baeck Institute, London (from 1998)
Member, Governing Body, Historisches Kolleg, Munich (from 1993 to 1997)
Hon. Vice-President, International Association for the Study of German Politics (from 1997)
Grand Silver Medal of Honour for Meritorious Service to the Republic of Austria (2008).
Federal Cross of Merit, Federal Republic of Germany (2004).