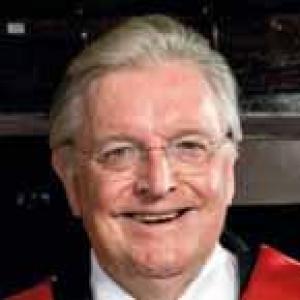 Professor Roger Hood
CBE, QC (Hon), PhD, DCL, LLD (Hon), FBA
12 June 1936 - 17 November 2020
Emeritus Fellow, All Souls College (from 2003 to 2020)
Professor Emeritus of Criminology and Research Associate, Centre for Criminology, University of Oxford (from 2005 to 2020)
Reader, then Professor of Criminology (1996), and Director, Centre for Criminological Research (now Centre for Criminology), University of Oxford and Fellow, All Souls College (from 1973 to 2003)
Adjunct (Visiting) Professor, City University, Hong Kong Law School (from 2008 to 2011)
Visiting Professor, University of Virginia School of Law (from 2004 to 2011)
Distinguished Visiting Professor, University of Hong Kong (from 2003 to 2004)
Fellow, Clare Hall, Cambridge (from 1969 to 1973)
Assistant Director of Research, Institute of Criminology, University of Cambridge (from 1967 to 1973)
Lecturer, Social Administration, University of Durham (from 1963 to 1967)
Research Officer, London School of Economics (from 1961 to 1963)
Postgraduate, Downing College, Cambridge (from 1958 to 1961)
Undergraduate, London School of Economics (from 1954 to 1957)
Death penalty
Race and sentencing
Parole
'Is Public Opinion a Justifiable Reason not to Abolish the Death Penalty? A Comparative Analysis of Surveys in Eight Countries', Berkeley Journal of Criminal Law (in Honour of Franklin E. Zimring), vol. 23 (2), 2018 (forthcoming January 2019)
'Towards the global elimination of the death penalty: a cruel, inhuman and degrading punishment' (with Carolyn Hoyle), in Pat Carlen and Leandro Ayres França (eds), Alternative Criminologies, London: Routledge, 2017, 400-422.
'Striving to Abolish the Death Penalty: Some Personal Reflections on Oxford's Criminological Contribution to Human Rights', in Mary Bosworth, Carolyn Hoyle, and Lucia Zedner (eds.), Changing Contours of Criminal Justice, Oxford: Oxford University Press, 2016, 182-196.
(with Carolyn Hoyle), The Death Penalty: A Worldwide Perspective (5th edition, Oxford: Oxford University Press, 2015).
'Staying Optimistic', in Lill Scherdin (ed.), Capital Punishment (Farnham: Ashgate, 2014).
(with Surya Deva [eds.]) Confronting Capital Punishment in Asia: Human Rights, Politics and Public Opinion (Oxford: Oxford University Press, 2013).
The Death Penalty in Malaysia: Public opinion on the mandatory death penalty (London: The Death Penalty Project, 2013).
For a fuller list see link to Curriculum Vitae
Consultant for the study on Death Penalty in Malaysia for the International Centre for Law and Legal Studies (I-CeLLS Malaysia) (from 2014 to 2016)
Consultant to the European Parliament on Enhancing EU Action on the Death Penalty in Asia (from 2012)
Consultant, The Death Penalty Project (from 2003)
Consultant, Great Britain-China Centre (from 2007 to 2009)
Member, Foreign Secretary's Expert Group on the Death Penalty Panel (from 1998)
Fellow of the British Academy (from 1992)
Expert Consultant on Death Penalty United Nations (from 1988 to 2005)
Member, Parole System Review (from 1987 to 1988)
President, British Society of Criminology (from 1986 to 1989)
Member, Judicial Studies Board (from 1979 to 1985)
Member, Parole Board for England and Wales (from 1972 to 1973)
European Society of Criminology, ESC European Criminology Award 'for a lifetime contribution as a European Criminologist' (2012).
Beccaria Medal of the International Society for Social Defence and for a Humane Criminal Policy (2011).
Hon. Ll.D., Edinburgh Napier University (2011).
Hon. Ll.D., Birmingham University (2008).
Sellin-Glueck Award, American Society of Criminology 'for international contributions to criminology' (1986).