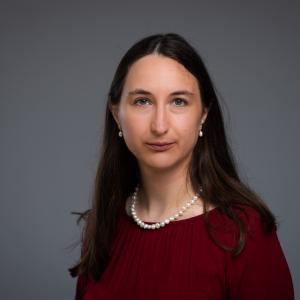 Dr Katherine Backler
Departmental Lecturer in Ancient Greek History
MA (Oxon), DPhil
Quondam Fellow since 2022
My research, at the intersection of history and literature, has two related strands: recovering the perspectives and experiences of ancient women—and reconsidering how we might access those perspectives—and working outwards from the study of individual relationships to re-examine larger-scale social structures. I am particularly interested in the complexities of emotional and bodily intimacy in exploitative relationships, and in the potential for approaching epigraphic texts commissioned by women as instances of women's self-writing.
Departmental Lecturer in Ancient Greek History, Faculty of Classics with University College (from 2021)
Examination Fellow, All Souls College (from 2016)
Undergraduate, Corpus Christi College, Oxford (from 2012 to 2016)
Women's relationships in classical Attika

Social history from Attic oratory and epigraphy

Emotional dynamics of slavery

Kinship (especially fostering, adoption, matrilineage)

Women's self-writing in the ancient world

Women and narrative in early Greek hexameter poetry

Textiles in ancient Greek literature and culture
'Sisterhood, affection and enslavement in Hyperides' Against Timandrus', Classical Quarterly (forthcoming).
Lysias: Speeches, translated by Martin Hammond with an introduction and notes by Katherine Backler (forthcoming with OUP in the Oxford World's Classics series).
Women Beyond Wifehood: Living and Relating in Classical Athens (under review with CUP).
'Women in Classical Athens', Season 1 ('Power') of the Hublic Sphere Podcast.
'Juggling emotions on a small Greek pot', podcast with the Ashmolean Museum.
Athens/Riyadh: think-piece on similarities between women's social position in classical Athens and modern Saudi Arabia.
My teaching ranges across (mainly Greek) history, literature, and language. I teach:
Greats (Finals) papers:
Sexuality and Gender in Greece and Rome
Archaic Greek History, c. 750-479 BC
Thucydides and the Greek World: 479 BC to 403 BC    
The End of the Peloponnesian War to the Death of Philip II of Macedon: 403 BC to 336 BC
Alexander the Great and his Early Successors: 336 BC to 302 BC
The Hellenistic World: Societies and Cultures: c.300-100 BC
Early Greek Hexameter Poetry
Mods and Prelims (first- and second-year) papers:
Aristophanes' Political Comedy
Aristocracy to Democracy: 550-450 BC
Greek Texts and Contexts ('The Persian Wars and Cultural Identities' and 'Dionysus, Drama, and Athens')
Latin Texts and Contexts ('Love and Luxury' and 'Class')
Homer, Iliad
Papers for visiting students:
Women in Early Christianity
Reading classes:
Demosthenes, Philippics
Aristophanes, Wasps
Thucydides, History of the Peloponnesian War
Herodotus, Histories
Sophocles, Antigone
I am available to supervise graduate and undergraduate theses on topics pertaining to my research.