John Merrington
BA (Hons), MSt, MSc
Examination Fellow since 2018
Contact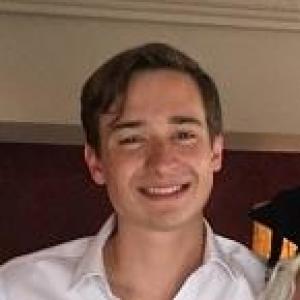 Doctor of Philosophy in Medieval History (2020-present)

Master of Science in Visual, Material, and Museum Anthropology (from 2019 to 2020)

Master of Studies in Medieval History (from 2018 to 2019)
Undergraduate, Somerville College, Oxford (from 2015 to 2018)
Thesis Title: 'Windows of the Soul': The Senses in Early Medieval Western Europe, c. 450-800

The Body, Emotions, and Community in Late Antique Gaul

Other Research Interests: The Writing of History in the Early Middle Ages; Archives; Material Anthropology; the Diocese of Tours
      See my faculty web page for further details about my research.
'The Building Projects and the Histories of Gregory of Tours', Early Medieval Europe 30/2 (2022), 159-84

Centre for Intellectual History Blog Post, 'The Nature of the Self in Fifth-Century Gaul'
Stipendiary Lecturer at St. Hugh's College and Lady Margaret Hall, Oxford

Postgraduate Member of the Royal Historical Society
Undergraduate outline courses on European and World History from 250 to 1300 and the History of the British Isles from 300 to 1100

Tacitus and Augustine components of the 'Tacitus to Weber' (Prelims Paper IV course)

Foreign Texts: Einhard and Asser (Prelims Paper IV course)

Special Subject: Francia in the Age of Clovis and Gregory of Tours
Awarded a Distinction in Visual, Material, and Museum Anthropology Programme (2020).
Awarded a Distinction in Medieval History MSt programme (2019).
Somerville College Alumni Scholarship (2018).
Gibbs Book Prize (2018).
Somerville College Principal's Prize (2018).
Mary Somerville Prize (2018).
Shaw Lefèvre Scholarship (2016, 2018).
College Prize (2016).