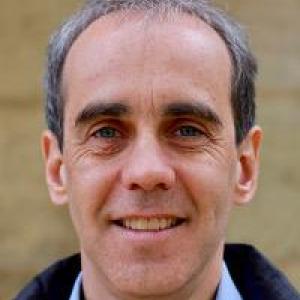 Professor Gavin Salam
BA, PhD, FRS
Senior Research Fellow since 2018
My research centres on Quantum Chromodynamics (QCD, the theory of quarks and gluons) and how to use it in order to advance our understanding of the fundamental particles and interactions of the universe.

My work is mostly directed towards high-energy particle colliders, notably the Large Hadron Collider at CERN, with applications in studies of the Higgs boson, searches for new particles, precision measurements of fundamental constants and studies of heavy-ion collisions.
Royal Society Research Professor and Professor of Theoretical Physics, Rudolf Peierls Centre for Theoretical Physics, Clarendon Laboratory, University of Oxford (from 2018)
Staff Theoretical Physicist, CERN (from 2010 to 2018)
Senior Research Scholar, Princeton University (from 2010 to 2012)
Associate Scientist, LPTHE (CNRS) (from 2001 to 2010)
Postdoctoral Fellow in Theoretical Physics, CERN (from 1999 to 2001)
Postdoctoral researcher, INFN, Milan (from 1996 to 1999)
Postgraduate, Cavendish Laboratory, University of Cambridge (from 1993 to 1996)
Undergraduate, King's College, University of Cambridge (from 1990 to 1993)
Theoretical particle physics
Collider quantum chromodynamics
ERC Advanced Grant (PanScales) (from 2018 to 2023).
Royal Society Research Professorship (from 2018 to 2023).